Happy Flower Personalized Key Chain Keychain In Solid Bronze Monogrammed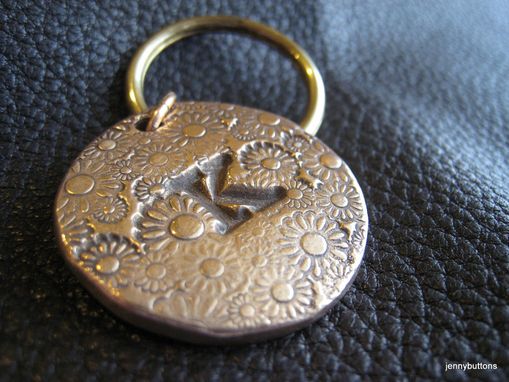 Solid Bronze Monogrammed Keychain Fob with Solid Brass key ring Approx 1" (2.4 cm.) in diameter

There is no reason that the everyday things of life should not bring a smile to our faces. Hence this Happy Flower keychain. Of course it is durably made of solid bronze and solid brass, but that doesn't mean it can't be a little girly too!

A ideal gift when you want to give something of value and lasting worth, but not spend a fortune.
(and if you WOULD like to spend a fortune (i.e. 165.00) I will be glad to make one in Sterling and Fine Silver for you, when nothing else will do)

Because of the background this design does best with one center initial. Perfect when you have no idea of the middle name, no? ; )

Please allow two to three weeks for fabrication.


PLEASE NOTE IF YOU LIVE IN TEXAS: THE CUSTOM-MADE QUICK ORDER FEATURE DOES NOT ALLOW FOR SALES TAX. IF YOU LIVE IN TEXAS WE WILL NEED TO AMEND THE PROPOSAL TO ADD 8.75% TX SALES TAX BEFORE PROCEEDING. THANK YOU!
All of our products are handmade
by expert makers.