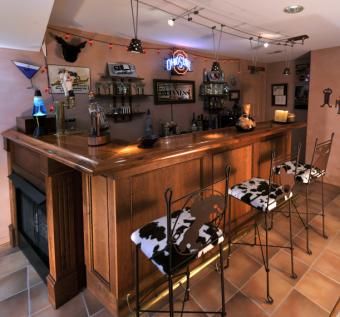 Elegant fun and excellent functionality were the motivation for this basement wet bar.

Built using solid American cherry and cherry veneer plywood, this bar serves several purposes besides the obvious. Integrated into the end of the bar is a ventless gas fireplace, which when lit, provides great ambience while warming the entire basement. A simple back bar houses a mini-fridge and provides a display area for special items and those "special" bottles. The under bar has a series of cabinetry for storage of additional supplies and glassware. Additionally, MWE engineered, built and installed a two-product beer tap consisting of remote keg refrigerator, a food-grade glycol beer line and tap tower cooling system with digital temperature controls for the beer temperature and the tap tower temperature. This particular system was set up to pour Guinness, a particularily "picky" product to pour properly.

Custom-built halogen lighting warmly illuminates the centerpiece of the bar...a bartop made of a single 1 1/4" thick piece of highly figured cherry and a solid cherry bull-nose bar rail. Knots, checks, cracks were all intentionally left in place and sealed with a professional bar top material protecting this beautiful feature.