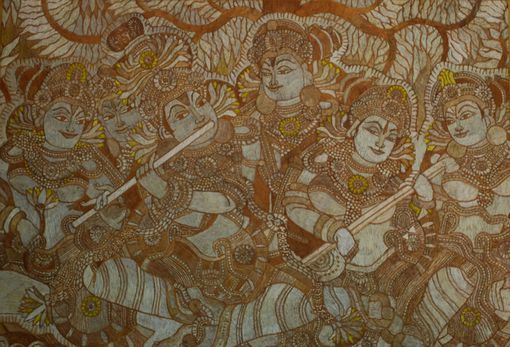 Vaikkol chitrangal (Straw art)

Straw art is very old and rare form of leaf art. This unique form of leaf art is developed through centuries. This leaf art consists of using the natural colors of the leaves of the rice plant to form a straw collage of unrivaled beauty.

It is a very tedious job to prepare these art items. The type of straw used is known as `Cheraadi,' which, apart from the natural color of the hay, has a deep golden color. The strips of straw are split open by a knife and smoothed and polished with the blade of the knife. The polished blade of straw called `nalam' is dipped in glue (which is a sap from a tree), and pasted on a board which has a cloth stretched on it.

All these are hand-crafted, original art. Not a print or reproduction. Each work of art consists of hundreds of tiny pieces of straw. This is an eco friendly art.

We accept only custom orders.

Dimensions: As per buyer requirement
Made in Hyderabad, Andhra Pradesh
All of our products are handmade
by expert makers.