Head Band, Hair Clip, Girlie, Trend, Ready To Ship, Holiday Gift, Gold, Stones, Glam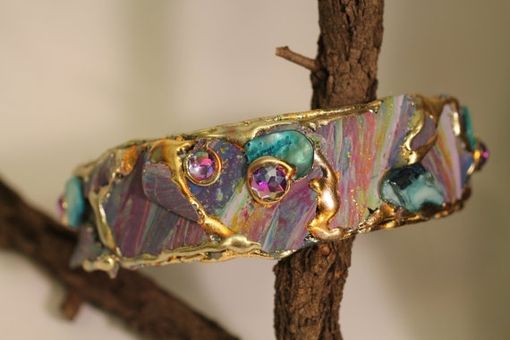 Glam Head Band, made from slivers and pieces of marbled polymer clay that has been "kissed" with variegated gold leaf. Stones are hand-set in a gilt finish.

This is a super comfortable head band, 1 1/2" wide at the top, it does not pinch or squeeze like most bands.

Each stone is set in gold leaf. The stones are highly polished glass and ceramic mosaic tiles with shine, sparkle and richness.

I create each piece and no two pieces will ever be the same. They are unique, and people will always ask where you found it, because they are not massed produced. This head band is sure to make a fashion statement and turn heads.

These hair accessories are the perfect gift for the hard to buy for girly girl, they come gift wrapped and ready to give

Please convo me if you like the item but would prefer a different color.