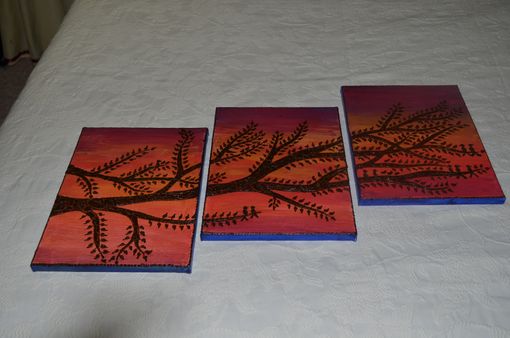 This is a 3 piece hennaed canvas, each canvas is 12 in x 10 in in measurement. the sizes could be custom made according to your need on your wall to be hun upon. The other size could be 20 in x 16 in, or 10 in x 8 in, or 11 in x 11 in. We can discuss it over once you like the piece.
The three pieces goes on the wall like stairs, one on the diagonal angle to the other. You can keep a little space between each canvasses to give them a better look. The canvases have been painted sunset and the tree branch has been given a silhouette effect. There are small birds sitting on the branches which give this even a more cuter look.
This can go on the walls in your bedroom, as a headboard or over a small fireplace, or on the walls next to the stair case in your house. You buy it and get the appreciation. I hope you like this piece of art.
Dimensions: This one is 12 in x 10 in, but can be custom made in 10 in x 8 in, 20 in x 16 in.