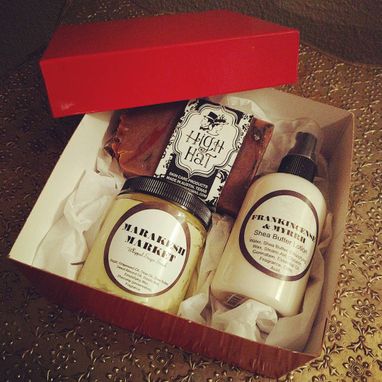 Make gift shopping easy with this festive box of wonderful luxury body products. There is a bar of soap (4.8 oz), a 4oz. bottle of lotion, and a 4 oz. jar of whipped sugar scrub. If you want to substitute fragrance mist for lotion or body butter for whipped sugar scrub, just put it in the notes for your order.

Choose your fragrance theme - Marrakesh Market, Herb Garden, Tea in the Woods, Picnic in the Park, or Mocha. These are in the drop down above.

All of our handmade products are made in small batches from high quality ingredients. We use both essential oils and fragrance oils, depending on what's available for a particular scent. The colors you see are achieved by using natural products like micas, clays, charcoal, various root powders, etc. We never use any dyes or animal products. Unlike commercial soaps, our artisanal soaps retain the glycerin naturally produced in the process, which moisturizes your skin and keeps it feeling silky long after you wash.

All sales are final.