High Performance Bow For Archery And Hunting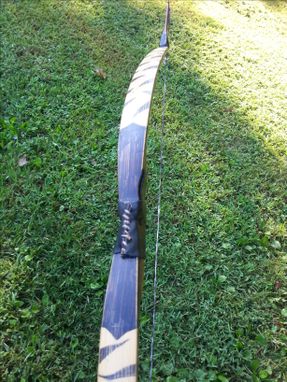 At less than 52 inches strung, it is compact, lightweight, fast and powerful!
Take this on your next hunt!
This high performance Horse Bow is truly unique!
Pound for pound, dollar for dollar - you will not be disappointed!
It is a "U-Finish" Bow, but fully functional, and already tillered. All you need to do is light finish sanding and apply protective finish as described in my instructions. Or leave it like it is, put a protective finish on it, let finish dry and go hunting!
Go ahead and add your own artistic touch!
No special tools or previous bow making experience needed!

Draw weight is 30-40# max draw length is 28 inches (Backyard/Target Model).
(Sorry no custom draw weights and lengths on U-Finish Bows.)
You can still use this model to hunt with, just check your local hunting laws on archery equipment. Handcrafted in the USA!

U-Finish Horse Bow Includes:
1 assembled horse bow
1 handmade bowstring
Written instructions
Video instructions
Dave's personal support! Every bow is built & shot by Dave before being shipped out!
Made in Science hill , KY
All of our products are handmade
by expert makers.