Himalayan Rams Horn Fillet Knife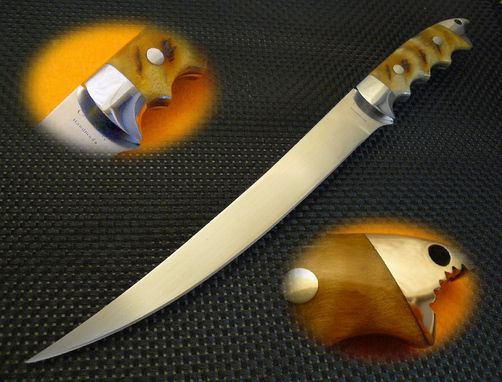 Fillet Knife AKA Sharky with front and back dovetailed 416 stainless steel bolsters this does both protect and locks the handle in place for life, this is the most permanant and secure way of installing a handle. The handle is Himalayan Rams Horn, it give you a very secure grip even when wet, Ideal handle choice for a fillet knife.
The back bolster is shaped and carved into the shape of a sharks head.
All of our products are handmade
by expert makers.
Jennifer's review

• Сен 30th 2013

I ordered a fillet knife for my husband for his birthday. We live on the Texas gulf coast and I was not sure which knife and what length would be the best for the fish we catch in our area. Gill was very helpful in helping me decide which knife I should get. I received the knife today and the knife was unbelievable. My husband loved it. It truely is a work of art. Gill was a pleasure to work with. Now my husband can't wait to go fishing so he can use his knife!