His & Hers Keychains, Hand Stamped Aluminum - Customizable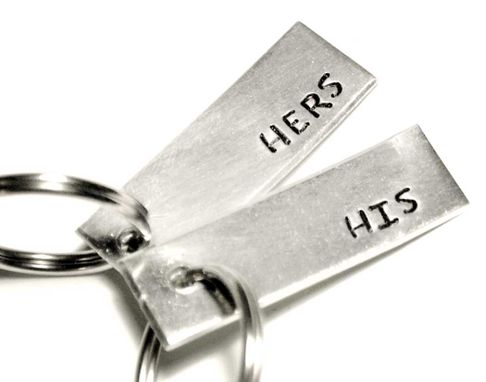 These aluminum mini-keychains (1 1/2" x 1/2") are hand stamped in my Comic Sans Caps font. One is hand stamped with "His" and the other with "Hers". These come on a standard size split ring.

I can also customize these if you wish; pricing depends on the number of characters (letters, designs) desired - please see dropdown menu for choices. I can fit up to 20 characters/designs on these little keychains - if you'd like a larger keychain, please contact me -- I cut and machine my own metal, so I can make any custom size you like.

Each keychain has the slight variations expected with handcrafted, hand stamped items, making it uniquely yours. Hand stamping involves the use of small steel letter stamps; words are formed by positioning each stamp and striking it with a hammer, a time-consuming process which necessitates precision and meticulous care. I have been creating hand stamped jewelry for nearly five years; there are now many people making this style of jewelry, but very few of them have been doing it for as long as I have. In addition to the wide array of fonts and design stamps at my disposal, I have recently begun working with a commercial-grade engraving machine, which allows me to engrave a virtually limitless number of designs. Please contact me if you are interested in a custom engraved piece; design services are also available, and I offer bulk pricing for large or group orders.
All of our products are handmade
by expert makers.