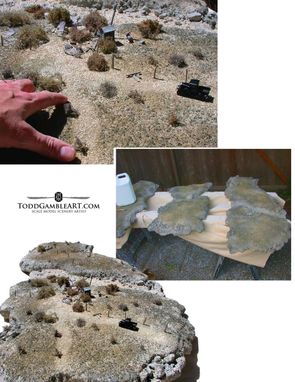 This is an HO-Scale Model Train Layout built as modular scenery components. This design makes it easy to set up and pack away.
Railroad track is built into the individual pieces of desert scenery and the scenery pieces are joined by bridges. The base is made of a strong tempered masonite and lightweight foam construction, both hand-carved rock and hydrocal gypsum castings are used. This layout can easily fit in a small living room floor for playing and comes apart and stores easily when play time is over. Stores in its shipping boxes.
Dimensions: Each modular component of scenery is approximately 4 to 5 feet in length and 2 feet wide. Very lightweight, each component can be lifted using only one hand!