Home Office Custom Wainscoting Faux Finish – Bentley Style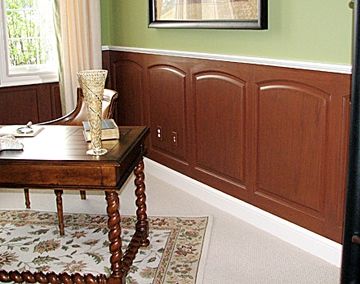 With so many finishing techniques available today, paint-grade material can take on virtually any appearance you desire. IntriG Raised Panel Wainscot is delivered pre-primed requiring only a light sanding and finish coat. This example shows a customer's beautifully executed walnut faux finish to match the furniture pieces.
Bentley Style (Standard) - $56.00 per lineal foot. Included in this price: Choice of Panel Profile, Cap Mold Style, Panel Height/Width, Bottom Rail Height, Detailed Installation Materials, Professional Phone/email Support and Shipping.