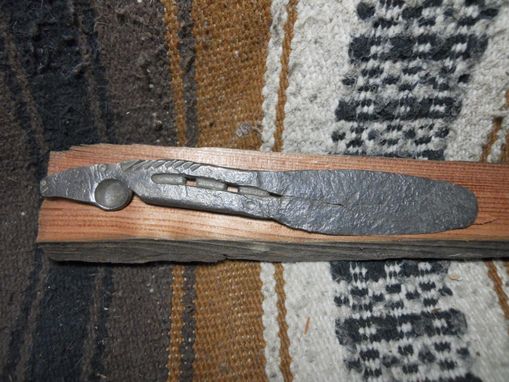 Great little butter knife for the kitchen or the cabin. Simple design with a little flare with a horse head handle. Works great for spreading condiments and makes for a great conversation piece.

Each one is hand forge, making each one unique and a little different.

It has a natural bee's wax finish to help protect the metal. Natural bees wax is the traditional way to protect forged metal. It is non-toxic and tasteless. However if you wish you can heat the knife, careful not to heat it up to much bees wax has a low melting point, and wipe it with a clean rag or paper towel.

DISHWASHER SAFE!

MAKE SURE TO FOLLOW CARE INSTRUCTIONS AFTER EACH AND EVERY TIME IT GOES IN THE DISHWASHER!

CARE INSTRUCTIONS: Care for it as you would a cast iron pot or skillet and oil it with vegetable oil to prevent rusting. Should rusting appear rub with vegetable oil and clean with 000 steel wool. Same as you would for cleaning rust off a rifle barrel.

Size and style will very depending on the horseshoe use and the blow of the hammer.

OIL WITH VEGETABLE OIL TO PREVENT RUSTING!