Hot Pink Long Pile Luxury Shag Faux Fur Tail With A Loop For Belt Or Pin On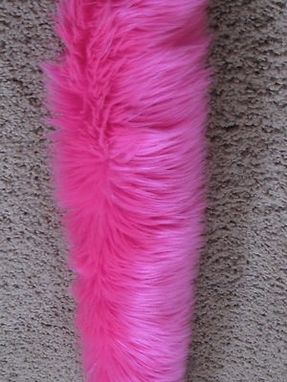 Faux luxury shag long pile fur tail, 15 or 30 inches long and has stuffing for filling. The tail also has a loop several inches wide for the belt to slide into and attach around the waistline in the center back,or you can pin it on with a safety pin onto a shirt or your pants. This piece completes the ears if so desired.

The dimensions: 15 or 30 inches long, 4 inches wide plus pile
This size fits all, the 15 inch is better for shorter folks or kids.
Fabric: this piece can be matched to the ears, the fabrics is luxury shag long pile faux fur. the fur is very think, long and luxurious.
The tail slides onto the belt via a loop.
"With pride, Hand made in The USA by a local artist - Me"
Perfect for costuming at any costuming event, dress up occasion such as plays, parties, Halloween and conventions.
This item can also be purchased with the cat ears ,or as a set for additional cost.

Most items are in stock and ship out within one day.

Any other questions, please ask before purchase.