"Hotel Guanella" - Alder Lodge Style Wine Service Bar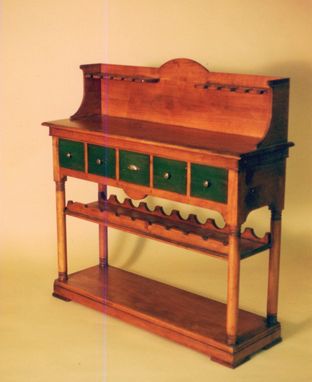 Designed and created to fit a specific space between twin French doors in a compact, Front Range mountain lodge, this wine service bar is a perfect, understated complement to the décor of the dining room which overlooks the upper reaches of Clear Creek close to the turn off to Berthoud Pass. It stands 52" wide X 20" deep X 36" high at the server and 48" high at the crest of the back splash. The client wanted to be able to display a bouquet of seasonal flowers or greens, with complementary knick-knacks. We designed the piece with a lower shelf to accommodate this desire. The wine rack will hold ten standard bottles at the correct storage angle. The glass rack was constructed to hold ten of all but the largest red wine glasses or snifters. The client also wanted to be able to store items for serving wine at her dining table. With that in mind we integrated five solid wood, dovetailed, deep and long drawers to provide her with the needed storage. There is plenty of room to set up service for an intimate dinner with wines for every course, including aperitifs, dinner and dessert wines; and the after dinner brandy. The piece is lightly distressed, stained and glazed, and the drawer fronts painted with environmentally friendly, low VOC stains and easy to maintain, moisture/alcohol resistant lacquer.

If you have specific space needs that cannot be met with commercially available furnishings, whether in your living, dining or sleep spaces, we at A&E have the expertise to help you in envisioning and creating pleasing and exciting furnishing answers to such problem spaces.

Dimensions: 52" wide, 20" deep, 36" high at counter, 48" high overall.
All of our products are handmade
by expert makers.