House Numbers 4" - 8" Size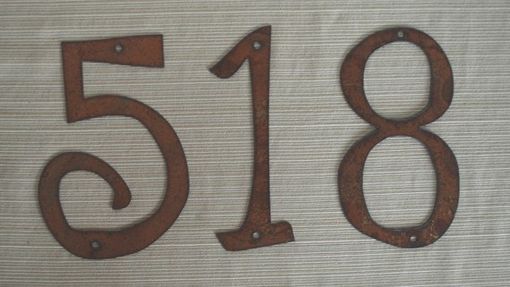 Price per piece: $ 7.95 each
Size: 8" - (We can do any size from 4" up to 8" for this price)
Metal: 18 Gauge Mild Steel (pre-rusted)

Shipping $5 (for up to 10 numbers)

We can do numbers or letters. The letters would be in this font also, but I do not have a picture of them.

Rust on metal can vary from number to number, but we try and have it all at the same level. You can always speed up the process by using acid, vinegar, or salt water.

We can make these in a clean metal if you would like to paint them instead of leave them rusted. This is up to you to do, unless you make arrangments to have us paint them for a fee.

★Just a friendly reminder★

These items are made out of mild steel. This means that they WILL rust or continue to rust unless they are sealed in some fashion. You can seal them with several coats of clear lacquer or pigmented paint, as well as other more involved methods. If these items will be in an area that is exposed to the weather, it is recommended that they be raised off of the surface they are mounted to by about an inch using a spacer such as a piece of vinyl tubing. This will significantly reduce the potential for staining. If you have any questions please feel free to contact us.