Icon on Canvas: St. Anthony of the Desert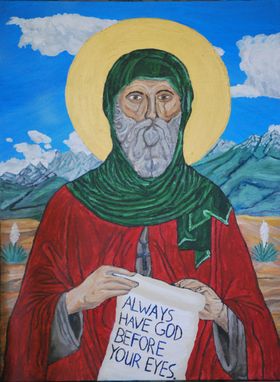 This icon was painted for St. Anthony's of the Desert Ukrainian Orthodox Mission Church in Las Cruces, New Mexico. I designed it to be large enough to eventually be placed upon their iconostasis when they have a permanent church of their own, and to be easily mobile. Even so, it's the largest Icon I've ever written, at 24"x36".

If you look carefully in the background, you will see that the mountains behind St. Anthony are the Organ Mountains, which are found to the east of Las Cruces, along with two Yuccas, which are the state flower of New Mexico. My thought behind this icon was to bring the Saint literally within the parish community, and the state and city where the parish was.