Impressionist Watercolor Painting Of A Young Mother With Her Sleepy Baby Girl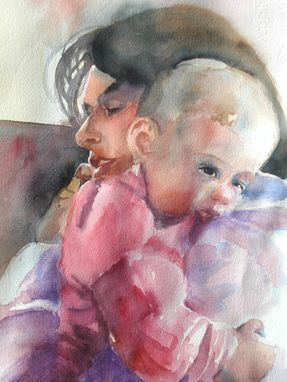 This painting was created from a snapshot taken as the little one was cuddling and drowsing off to sleep. I used 140 # Arches cold press watercolor paper. I used a wet in wet process to get this effect of softness and sweetness, trying not to get too much detail so that it is a rather dreamy painting. If you have precious photos that you would love to have made into a painting, do not delay. You will never be sorry and you will have a beautiful piece of handmade artwork on your living room, bedroom, or den walls.
The cost depends on the size.