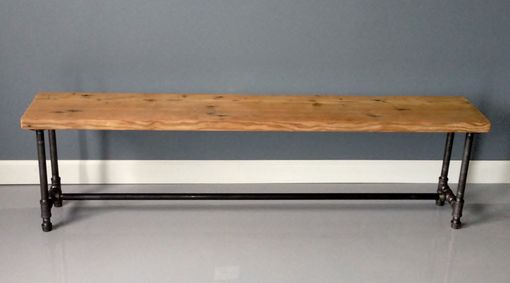 This listing is for a beautifully handmade reclaimed wood bench with industrial pipe legs.
60"L x 11.5"W x 18"H 1.65" wood thickness. This bench is made out of unsealed, raw, old growth Douglas Fir (anywhere from 100-200 years old!) that we rescue from old factories, barns, and other buildings right here in the mid-west. If not salvaged, this wood would have been either thrown out or burned. Thankfully we saved it, so that you can have a wonderful statement piece in your home. Can be used in: Kitchen, Bedroom, Living Room, Foyer, Mud Room, Dining Room, Media Room, Laundry Room, Etc. Can be used outdoors, just request a sealant be added to protect against the elements.

Reclaim. Reimagine. Rebuild.
It's these three words that not only describe our process, but also, our passion.
Because everything we build, is built by hand, and guaranteed for life. And with reclaimed wood and industrial-inspired accents, every furnishing is a truly unique fusion of rural and urban America. Is it the easiest process? No. Would an assembly line somewhere overseas be cheaper? Probably. But the way we look at it, when things are built with love, they're built to last. And that's why, at Dendro, we're Hell-bent on Hand-crafted. Made right here, in the US of A.