Ink Commission "Cornucopia"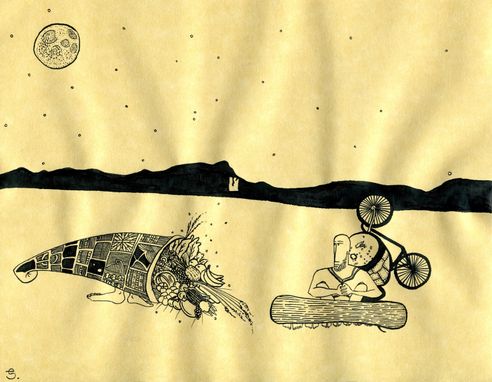 "Cornucopia"

Was a commission done for a lovely woman's husband. He turned 27, traveled the world, loves Fiji, loves his family, keeps in good health, loves snowboarding, owned a bike shop, is a Virgo and loves the mountain range in his town, he calls them his mountains.
​
I really enjoyed this one...I gave 27 stars to represent his new age (not including the sun) I got a photo of the mountain range to look at as I did the background. I arranged a few of the stars to make the virgo constellation. I did the moon phase for the night of his birthday. The way he holds his pack is similar to a photo of him, I put the world in it to represent his travels and made it zoomed in on Fiji and surrounding islands. Bike for the bike shop and snowboard. I put the feet of his family beneath the snow board to show he takes them with him where ever he goes. The Cornucopia or "horn of plenty" is to symbolize nourishment and abundance (put two wedding rings in there as well) Freehanded on 8.5 x 11


I freehand with ink listening to music using only 3 types of nibs on parchment 8.5 x 11

The Cost range depends on how detailed of a work you are looking for.

To see videos on how I go about my art please visit my profile.

I look forward to hearing from you!
Dimensions: 8.5 x 11