Irridized Bronze Glass Counter Top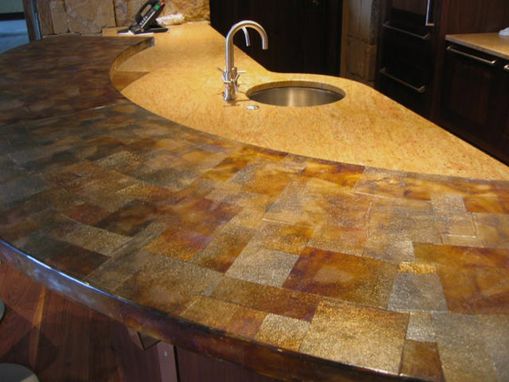 Glass countertops or vanities make a dramatic architectural statement! They can be custom made at the Ditzler Glass Studio in many sizes and thicknesses. Working from your dimensions, we build a temporary mold in the kiln that is filled with the selected glass color and recycled clear glass. The kiln is then fired to more than 1500 F, which melts the glass into one seamless piece. This is known as "kiln casting". There are many small "champagne" bubbles within the glass. Because we use many small pieces in the casting, several colors can be combined, and even small "artifacts" such as leaves or images can be melted inside the glass.
Illumination with rope lighting, or LEDs underneath, or spot lights above will provide a beautiful accent or nightlight effect! The top surface of the countertop has s a "slate" texture with an iridized or metallic sheen. The iridized coating provides contrasting gold, silver, blues and purples on the surface of the glass in addition to the base color of the glass.
Should you want to place a glass vessel sink on the counter, we can provide the drain hole base, as well as the holes for the faucet. Please contact the studio for additional information, color samples or a price proposal. Note: price below is per sq. foot and varies with thickness.