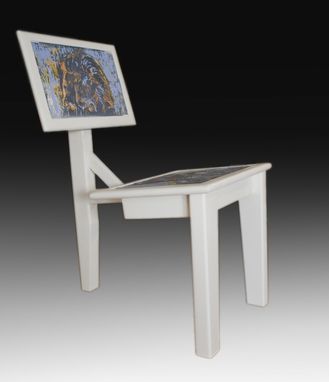 -2011

-32"h X 18.75"w X 24"d X 18" seat height

-Cherry

-Heirloom white spray paint

-Acrylic paints

-CNC carving

I used a CNC to duplicate a famous Vincent Van Gogh self portrait that I split in two pieces which I used to create the back rest and seat. I used acrylics to paint the seat in the yellows and greens that were the primary colors Van Gogh used to paint that particular portrait. The indigo was to pay homage to William Morris who without my medium might not be and the light blue was to help bring out the figure from the background while maintaining balance. The overall style of the chair I wanted something that could fit in with furniture in the 1900's but with a modern twist. The two front legs are the same except attached in different orientations as to create some movement since the piece has such a heavy focal point and the white is used to accentuate its modernist distinction.

With its mortis and tennon , lap joint, and finger joint construction it is a testament to quality and consideration for the elements and principles of design. Incorporating a famous Van Gogh I ask you "Is It Art Now?"