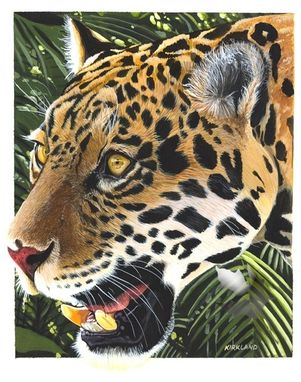 This Panthera Onca (the Jaguar's scientific name) is the third largest cat, after the tiger and lion. This
cat has a stocky , powerful body, and long canines and a bite force nearly as great as lions and
tigers. This is perfect for you if you love cats, big cats. This is created by Dwight Kirkland of
Black Leaf Studio.

An acrylic on framed illustration board, the image measures 9 1V2 inches by 12 inches. The frame
which is a triple mat, nice black wood frame measures 20 inches by 22 1V2 inches.
Artist retains all copyrights.

Acrylic is a type of paint made with synthetic resin as the medium (liquid) to bind the
pigment (color), rather than natural oils such as linseed used in oil paints.

Black Leaf Studio is the clear choice for your next project. We specialize in hand painted
murals on walls, backdrops, canvas, sets, theatre, scrims, museum, zoo, and aquarium
environments. Please give us a call or visit us on the web to discuss how we can create
your next environment.
All of our products are handmade
by expert makers.