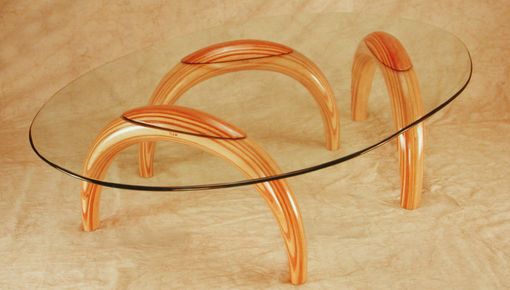 Eye catching design that will make it a focus point on your living room.
I started making these tables out of Baltic Birch plywood, while living in Brazil. Now in the USA, I developed the lamination technique. I've been making it in Honduras Mahogany what gives it a real solid wood look. The strong and thick curved piece immediately sparks the curiosity of any observer. Even experienced woodworkers, while looking to it, asked me how does it holds the glass. That's something you can keep as a game with your friends...

It can be finished on either satin or high gloss lacquer.
The glass shape can be send on a paper template, so that you can take it to any glass shop and have it made locally, instead of paying the shipping costs for it.
Dimensions: 17" High x 25" Wide x 3 1/2" Thick