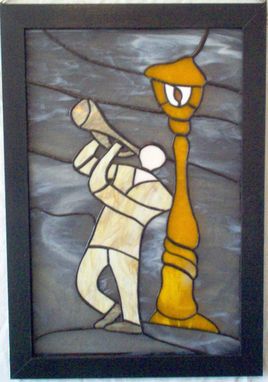 This is a perfect piece of art for anyone who loves Jazz. This piece features a man leaning on a lamp post playing his instrument. The background glass makes this item come alive. It is a smokey grey, has a fell of nighttime with a cloudy sky. You should be able to just hear the music.

He has a beige suit on and gray shoes.

This is made when ordered, so you do have the option of changing some colors that best fit your decor. Just let us know at the time of ordering.

Size: 17" wide x 24" tall, including the 1" frame
The frame is of solid Oak, but this one shows it being painted black. All will be shipped with the frame being black, unless you state otherwise. Either the Oak own beauty or the black is striking in this piece of Art. Comes with a decorative chain ready for hanging.