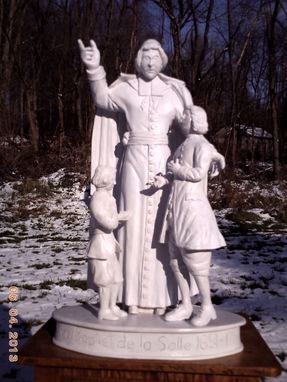 Here is my carved from limewood, 26 inches high, John Baptist de la Salle statuary group commissioned by a customer in Los Angeles, California. John Baptist de la Salle was a seventeenth and eighteenth century teacher who dissipated his inherited wealth to educate impoverished children, he is regarded as a saint by the Roman Catholic church. I painted the group with numerous thin glazes of slightly varying colors to attempt to create the impression of white marble reflecting the blue sky of a setting or rising sun, that is, with the faintest blush of blue and red.
Ryan 9/9/13
Good evening Ralph,
What an awesome thing to see this coming together. I apologize I have been slow in my responses. As school gets back into the swing of things, I forgot how busy it gets. I am yet amazed at how the block of wood is turning more and more into John Baptist de LaSalle. Every time I see various artistic renditions of John Baptist de LaSalle I cannot help but be reminded of your take on the facial expressions

All of our products are handmade
by expert makers.