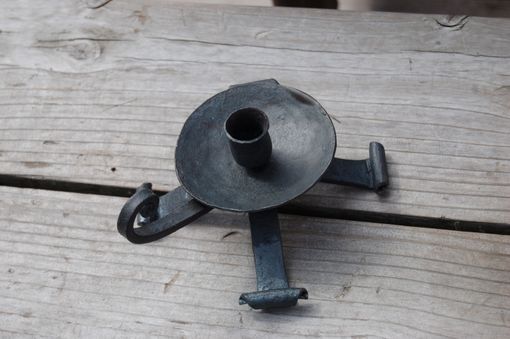 Hand forged candle holder. Hand hammered candle cup from reclaimed plumbing pipe. Scroll detail at each foot and handle. Measures 7in from foot to foot and 41/2" from top of scroll to table. The legs are made from 3/4 in flat stock, the wax cup is made by sinking a flat circle into a recess in our 386 yr old cedar stump.

The time and energy that is poured into this piece will resonate through the years at it stands the test of time and can be left behind generation after generation. 100 years from now someone in your family will tell the story of their family heirloom.


All items listed are created for you by our family, Kent Knapp lead Blacksmith. We are happy to provide ideas for your space or create pieces from your vision. Our family goal is to provide you with a piece of art that functions in the way you are best served. Hand forged ironwork is a purchase that lasts for generations.

Recycled steel bar and found metals used in the creation of all work. Save the planet with beauty!

Most items deliver in 1-2 weeks, larger projects according to contract.