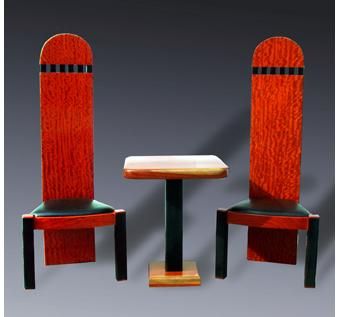 A table and chair set fashioned of flamed bubinga, steel and leather. Originally conceived to have a board inlay on the table top, these chairs were designed to evoke the spirit of chess pieces.

And this too: after decades of coveting, acquiring, pining for, spending foolishly upon, using and storing lumber selected for its beauty, character and unique qualities, the particular solid bubinga used in these chairs stands out as one of the most exquisite pieces of tree to come into this shop. The design was kept clean, for any ornamentation or frill would only compromise the larger picture and dishonor the material. When the light is just so, it seems that one could sink a finger a half-inch below the surface, such is the wood's flame and depth. The leather is high-quality, aniline dyed black (dyed through, should it ever suffer a scratch (those rambunctious chess matches), it will still show the black.)

This set is currently available. Can yet be modified to include inlaid chess board.
Dimensions: 23"W x 64"H x 20"D