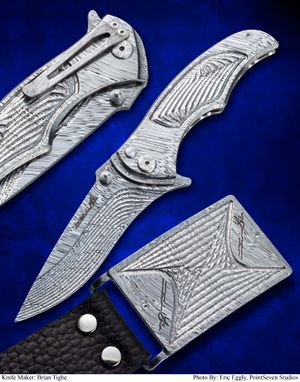 Brian Tighe Knifemaker Profile From: American Handgunner By Pat Covert You'd need a calculator to count the number of custom knife-makers who have jumped into the tactical fray over the past five years. You can tally the cream of the crop on two hands, being sure to earmark one of those digits for knifemaker Brian Tighe. In a matter of just a couple of years Tighe (pronounced "Tie") has risen from the rank and file of edged weapons artisans to the rarefied air of the top 10 elite.
Dimensions: Damasteel "Tighe Coon" Button Lock Flipper, 3 3/4 inch Blade $1600.00 and matching Belt and Damasteel Buckle $500.00
Made in St. Catharines, ON
All of our products are handmade
by expert makers.