Koi Fish On Metal Aluminum Print, 'Swimming Through Color'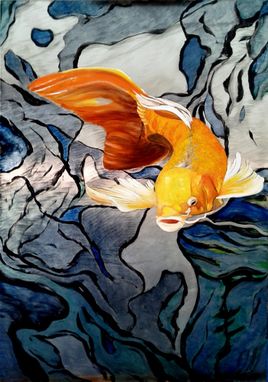 Placing the Koi Fish Painting in to your home Symbolize Wealth, Harmony and happiness. Placing this Feng Shui Koi fish painting by your door in your home is a very powerful symbol of good luck, ... In the Chinese culture Koi fish symbolize wealth, harmony and happiness.

'Swimming Through Color' is one of my new paintings. Originally painted with oil on distressed metal, I am now offering it as a aluminum print. I have recently combined my two great loves in life. Oil paints and metal. This is the result! As the light hits reflects of the metal it gives a 3D effect as if the fish is swimming though water of light. This effect comes through in the print as well.

This piece is printed on high quality aluminum. Printing it on this surface creates a beautiful print that glows, which is not achievable with paper or canvas, and will last for many more years. The print comes with backing that allows it to float about an inch off the wall. You don't need a frame but can frame it if you wish.

Title: "Swimming Through Color"
Artist: Sasha T.

* Printed on high brushed aluminum panel
* All materials of archival quality
* Measures 11" x 14" inches
* Presented in gallery style.
* Not framed but hinged in back. No frame required.
* Signed and dated on back by hand. Each one is unique.
* Custom sizes are available.
All of our products are handmade
by expert makers.