'Koi Pond' Recycled Motorcycle Clock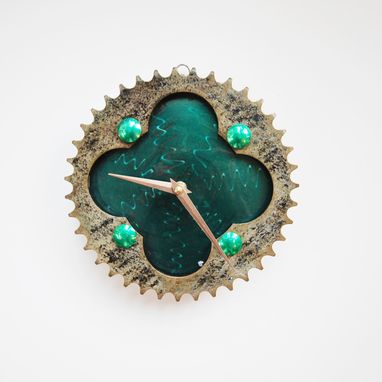 For this little beauty, we started with a recycled motorcycle sprocket that we treated with real copper paint and oxidezed multiple times for a patina effect. Next we coated an upcycled aluminum backing with a deep translucent green and finished it off with green coated bolts.

This gorgeous clock is elegant enough to look at home in your living room or kitchen but edgy enough to fit right into his man cave.

Made from 95% recycled materials, 100% unique!


Comes with a AA battery.
Other hand options available.
Clock mechanism is guaranteed for 10 years.

Please note that because we use all recycled materials except the clock mechanisms and bolts, it is impossible for us to recreate any piece exactly. We are happy to work with you to create something similar or alter this particular piece to your specifications.