Lady Elizabeth's War Hammer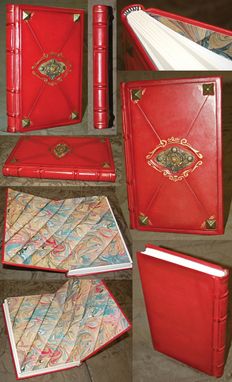 This is a tall 7x11 Red Leather Journal. It has a raised panel front and paneled spine. This one is fitted with a decorative filigree that has been recessed in the center and pyramid studs on the corners.
The inside text-block is high quality white drawing paper and the the head and tail have hand-sewn headbands.
Paraffin coated marbled paper for the end-sheets and a rounded back with four supported cords.