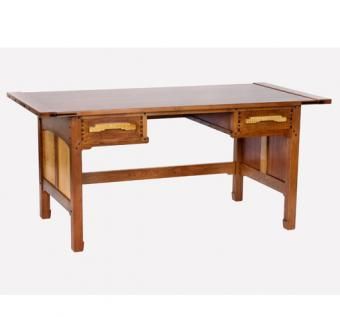 Lady's Desk

60"W x 29"D x 27" H

This piece is called a Lady's Desk because it was custom made for a "small" client to be used in her home office.

The design was crucial regarding the woman's height, and the width and height of chair she is using.

Once again this piece is a reflection of Japanese interior design, particularly the drawer details and joinery.

The Lady's Desk, part of an Office Suite with two more pieces, is made of custom stained curly cherry with anigre veneered side panels. The accenting plugs are ebony and the drawer handles are ribbon maple.
Dimensions: 60" wide by 29" deep by 27" high