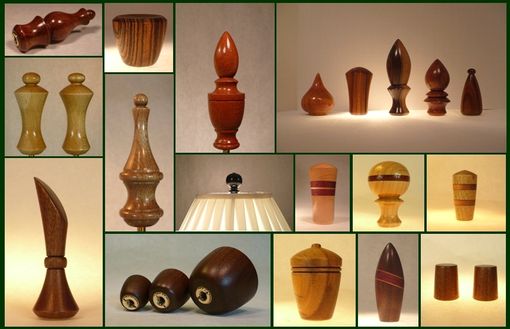 Picinae makes fine wooden lamp finials as the finishing detail to secure a shade on a lamp. These are hand made with woods from around the world, solid brass fittings and hand rubbed finishes. They fit (screw) onto a standard lamp harp and center on the shade spider; unlike most commercial finials, the brass adapter is concealed once the finial is installed. Picinae has many different finial patterns ranging from traditional through contemporary, patterns can be scaled for different size finials and many different woods are available to provide a wide selection of colors. Custom finials are made to the same exacting standards as its proprietary finials.
All of our products are handmade
by expert makers.
The Rev and Dr. R.'s review

• Feb 5th 2019

David Savage should be running the creative world. I could not be more pleased with the beautiful Church Verget's Wand. I will be sending other projects to him. Tbe Rev'd Dr. Suzi Robertson

paul h.'s review

• Jul 5th 2017

I work at a job where I am asked to solve unique problems daily. One such case was sourcing themed finials to sit atop a clothing stand in a store. I spent days scouring the internet and local stores for something I could use to no avail. I don't know how I stumbled upon David's Marketplace page, but I am beyond relieved and glad that I did. Immediately David tackled my problem head on with such professionalism and care that I was blown away. I work with a lot of vendors, so to have one that communicated so effectively and urgently was a joy. His work is superb, and the project turned out exactly how I wanted. I honestly hope I can work with him again in the future.

Scott W.'s review

• Apr 23rd 2016

I had a need for custom finials for some outdoor lamps. Dave produced exactly what I needed and my lamps look brand new again. No more shades flapping in the wind. The craftsmanship was precise and the packaging would lead one to believe a fine jewel was hidden inside. If you need custom finials, this is the place to go.