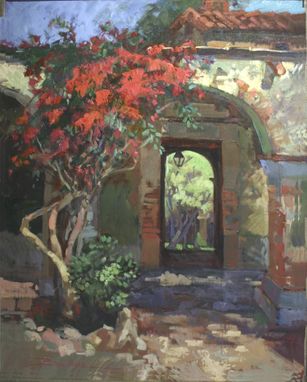 LANDSCAPE EN PLEIN AIR

You will need to contact the artist, if you are interested in any paintings as they are shown here, to see if it is still available. They range in size from 12x12 to 20x30 inches

All of the paintings were done on location. And should you have a special location, the artist will travel there (with your financial support) and create a body of work, for you to choose from. Either the plein air piece or a larger studio piece, created from those created on location, will be offered to you for your final choices.

Should you like any of these paintings that are already sold, let me know, send me samples of the colors you are needing for that special room, the size you want...and I will create a painting to your requirements, using any of these shown.

OR IF YOU HAVE A FAVORITE GOLF COURSE...as the one painting at the top, of the large trees (and the golfers dwarfed by the trees!)...the artist will travel (at your expense) to that course, and create any size painting, with YOU in the creation!!!

RATHER EXCITING, huh?!?

The little white house, is 12x12, and in the North end of Washington.

The Autumn Trees, are in Clarkfork, Idaho... 16x20

The deep evening blue mountain, embracing the palm trees, where else: PALM SPRINGS CALIFORNIA...also, in a private collection! BUT, another could be created for you!

The drop dead gorgeous Eucs, and abandoned boats, are from Catalina Island, on 'the far side'!!! Still available...maybe, if I don't change my mind!!!