Laughing Coyote Mask Wood Sculpture By Jason Tennant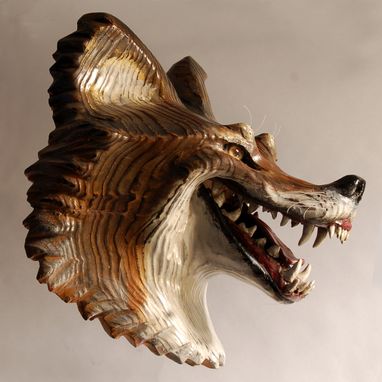 Hand carved and painted hemlock wood sculpture by artist Jason Tennant. FOR ORDER.

- Mask is approximately 10"H x 7"W x 9"D

- Mask is carved hollow, glass eyes

- Base is domestic hardwood (Cherry, Walnut, Ash, Oak etc. ) and aluminum

-Carved out of Hemlock

-Hand formed, not cast, clay teeth

-Whiskers hand formed as well.

- All work was sculpted by me, Jason Tennant exept the glass eyes.

I will be doing front quarter canines soon ( wall mounted, including front legs & torso)

I can create this mask with other expressions, or hollow eyes, mouth closed.

Usually when I do these, there is a sinister quality to them. As an artist, I try to maintain a dignity to the coyote without " Disneyfying" them. My intent with these is to celebrate the pushback from our ugly suburban sprawl that the coyotes offer.
All of our products are handmade
by expert makers.