Leather Bondage Cuffs - Black Latigo - Embossed With Thorns - Steel Lead Ring - Feather Motif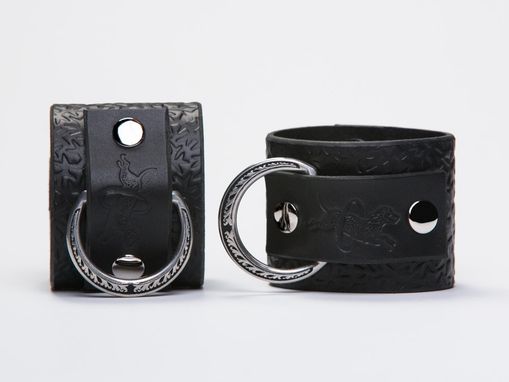 Bad dog!

Use these restraint cuffs to remind your pet who is in control.
Ebony Latigo Leather in a 6oz weight. Supple but well suited to the purpose.
You will find these snaps to be quite secure.
However, if your pet is particularly undisciplined, we can fit these cuff's
with an industrial grade fastener.

Embossed with our iconic logo. Branded on the inner surface.
Hardware is available in steel or brass with a variety of patterns.
Shown in stainless steel, with feather motif and nickel fasteners.
2 inches in width.
Sold as a pair.

When sizing your cuff, measure the circumference of your wrist
at the widest point where the cuff will rest.
Cuffs are sized from 7 to 10 inches with 0.25 increments.
Custom sizes are available on request.