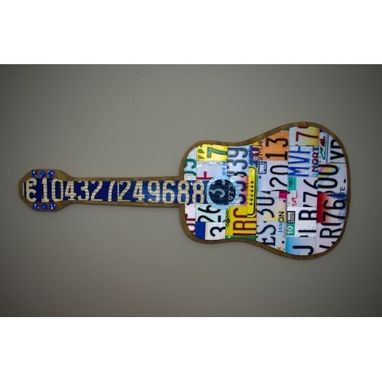 This guitar is made from actual license plates and mounted on wood that surrounds the outside of the guitar to make it stand out. You can see a pattern of square cut license plates for the base. Six wire strings give the guitar that added touch. This guitar truly shines at night under low light. You can specify the background stain to use for the outside.

License plate styles and colors may vary. Each map has 2 "D" hooks on the back of them for easy hanging. Made by Artist Cody Funderburg.

This size is perfect for the office, living room, man cave, and bedroom. This is a great gifts for new homeowners, weddings, music lovers, birthdays, job promotions, Christmas, and more!