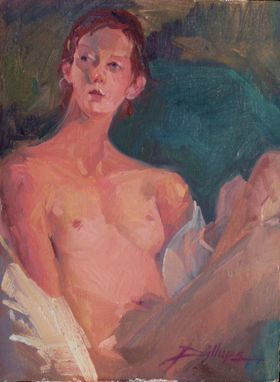 The human figure has been used in the art field, since the beginning of time. The cave paintings are of humans and the animals they hunted.

In the middle ages, the human figure became the center of attention and was used by many of the old masters. Michaelangelo's Sistein Chapel was original painted with full nudes...but being reprimanded by the Pope, he draped cloth across certain areas of the male body!

Nude or Life Drawings are a wonderful accent to any private area (not regularly exposed (excuse the expression!) to the public...so more for bedrooms and bathrooms as a personal touch!

These drawings black and white drawings measure around 17 x 13. The sanguin colored drawings are larger, and the paintings are 16x12 oil on board, except for the young woman pulling up her skirt, that is 10x8.

And and all of these could, if required, be used to create larger original drawings or paintings, tho not EXACTLY, since there is no "cover up" (again, excuse the pun!), since they are drawings on paper!

I have also used my drawings as the foundation for the "raku" colored abstracts that I have shown on this web site...if you look closely at these abstracts, you will discover a nude, hiding within it's borders!!

These come unframed, so that they can be custom framed to your specific design needs.