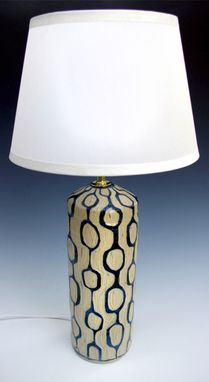 White Stoneware table lamp with cobalt blue slip and clear glaze.
..................................
Every lamp is wheel thrown by Steve Smith then passed to Rebecca to decorate in one of four colors of slip (brushable clay with colorants added). Colors available include warm black, espresso, cobalt, and cherry red.

Once the conditions of the clay are perfect, I begin to carve the freehand design using ribbon tools with a technique called sgraffito. Every lamp is completely different as a result of the freehand process even though the subject matter, color, and shape are consistent. This "Link" pattern has found its way into my design patterns over and over, simple and classic with a bold strength that is sure to draw attention.
.................................
Generally I do not include a shade with the lamp as they are difficult to ship and easy to locate in every community, however, if you prefer a shade included I will choose one that suits beautifully and ship it separately.
..................................
sgraf·fi·to/zgräˈfētō/ Noun: A form of decoration made by scratching a surface to a lower layer of a contrasting color, typically done in slip on clay.
Dimensions: As shown:
8" x 18" not including the harp. With the harp & Shade the height reaches 29".

Custom sizes are available up to 20" in diameter.