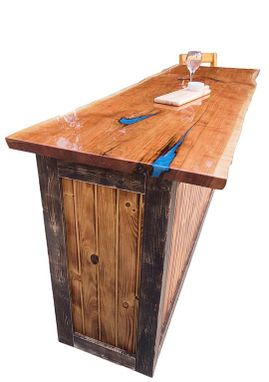 This bar had a solid base constructed of 2x4 and 4x4 pine. The outside of the base featured pine barn siding that had been torched to bring out the natural grain of the wood and trimmed with antique finished pine. Inside the bar you could find a solid ash shelf to provide complimentary contrast. The "cherry on top" was a locally harvested live edge slab. The natural cracks in this cherry wood slab were accentuated with a pop of ocean blue metallic colored resin. The top was finished with 5 layers of Stone Coat Epoxy which is heat and yellowing resistant. The entire bar from top to bottom was incredibly smooth to the touch.

This Northern Ridge Designs live edge bar found its forever home in this Garage to Barage home makeover! Pictures do not do this fine piece of art justice. Dimensions of this piece were: Top 89 3/4 inches long by 27 1/2 to 28 1/2 inches wide. Base 85 1/2 inches by 19 1/2 inches. 41 1/2 inches high

Contact us for you custom live edge bar. Prices vary based on dimensions, type of wood used, and added features (lighting, footrails, etc.). We deliver anywhere in Michigan, Indiana, or Ohio.