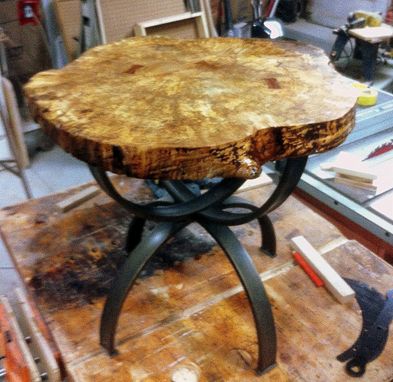 This is a table made of a large "cookie" of sugar maple on a metal, 4 legged base. The pattern of grain on this piece is gorgeous. The wood is "spalted", meaning fungus inside the tree has made patterns of grey and black. Spalted maple is highly sought after, since Nature is the best painter.

There were a few splits starting. Three cherry bowtie joints are installed to check any further splitting. The cherry fits well into the maple top.

The table is finished with a shellac sealer, then three layers of linseed oil followed by multiple layers of polyurethane. This is a well-protected table top.

The top is sligjhtly oval. 23" by 21" wide and 2" thick. The table stands 18" high. I have hand planed and sanded the top to a glass smooth finish. The bark has been removed and the sides smoothed. The base is painted black metal.

This is a great incidental table. Perfect for a living or dining room. The texture of the grain just draws your eye to it and you just want to run your hand across the surface.

Your custom table can have either steel legs or bent oak legs. And each top is unique in detail.