Lizards In Love Or Playful Lizards: Pillows, Scarves, Wall Hangings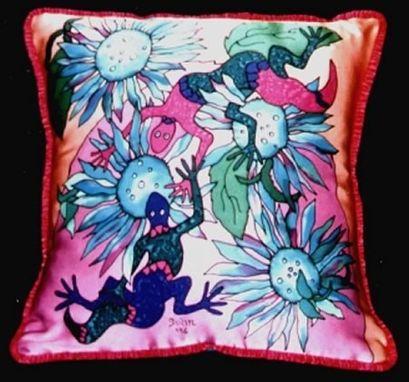 These pillows show colorful lizards playing in the blue sunflowers and sometimes they are painted in golden sunflowers. Originally designed as a framed triptych wall hanging, I have since made them into these fun-filled pillows.
The Lizards in Love pillows, as well as the Frogs, Cats, Fish and Turtle pillows made wonderful gifts - appreciated by all ages.
Dimensions: Full sized pillows are 16 - 18 inches. Can be ordered as single pillows or in sets of 2-4 pillows. They are all original handpainted silk pillows backed with raw silk fabric and corded on the edges. They have removeable inner pillows.