Lotus China Hutch And Sideboard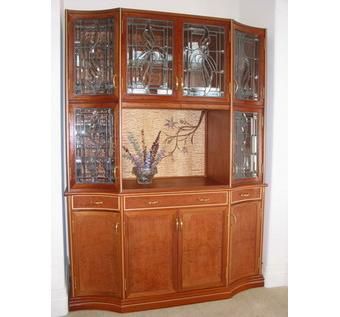 This hutch and sideboard are made from solid mahogany and various veneers. The curved doors were pressed in our vacuum press. The frames for all curved doors were made from laminated solid mahogany strips. The strips were laminated under high pressure to form the resulting frames. The doors on the upper are fitted with leaded glass. The work was done by a glass artist here in Valley Center. The center panel is in quilted maple and various tropical woods. This center panel can easily be removed and replaced with another motif, fitting with the season or some particular occasion.
Dimensions: Width is 68 inch. Height is 84 inch. Depth is 30 inch.