Bookcase/Curio With Diagonal Shelves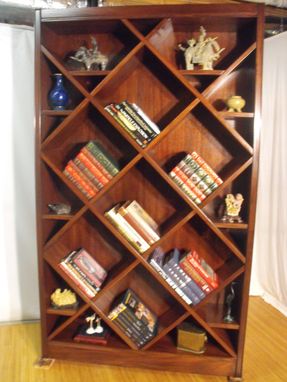 Large mahogany bookcase with diagonal shelves. Small horizontal shelves added for displays. Stained dark brown, with a sprayed on lacquer finish.

Tongue and groove joinery makes this bookcase sturdy. Much attention was paid to get perfect angles. The outcome is a very handsome piece of furniture anyone would be proud to display.

The person who commissioned this unique bookcase says:

"Mick Peters built for me a large mahogany bookcase of a unique design. I had caught just a glimpse of a bookcase on television that had diagonal,intersecting shelves rather than typical horizontal shelving. With just my description of what I wanted Mick designed and built the project using quality woodworking features that I would not have known. The case assembly uses keyways and splines and is more solid and rigid than I would have imagined. The multi-step finishing Mick used was top quality. I am totally satisfied with my dealing with Mick and the bookcase he built for me."