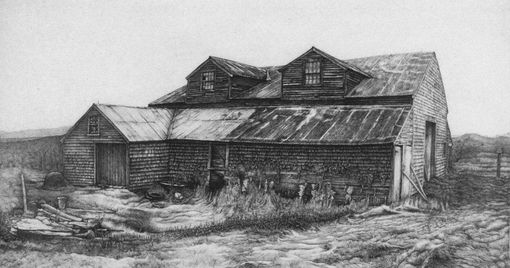 This is a black and white, mat finish, 13"x19" digital print of the original pen & ink drawing.

Geoff creates his drawings with pen and ink on snowflake parchment using a Koh-i-Noor Rapidograph pen with a size 00 point that he has filed so that it pierces the surface of the parchment allowing the ink to be absorbed.

The original, framed pen and ink artwork, signed, "G.Stiles 2001" (32x53", framed with rustic barn boards) is for sale also.

I came across this barn at the top of a windswept hill overlooking the White Mountains of New Hampshire. A unique place on the cusp of nature's reclamation, the all red barn had once been used for the cover of a Dexter Shoe catalog. I drew it from life and snapped a few pics of details for working up a finished piece in my studio. The artwork took me about a month to complete.

Like a Noah's ark on a sea of grass, it felt dangerous to walk there, like you might fall down a well or be cut by a piece of rusted metal. The right side shows distant foothills and the mountains beyond, which held intrigue, so I looked them up on the map, drove out and found land there. We soon flew like the blackbirds in the picture in that direction and built a house.