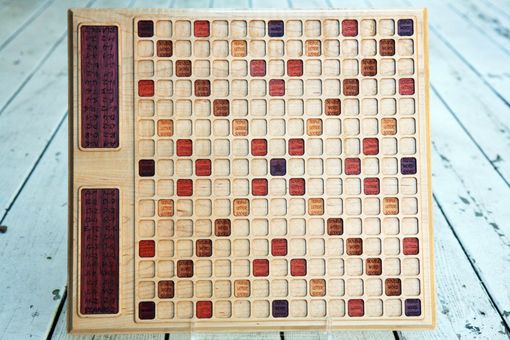 I used a Soft Maple for this Scrabble board which is a bit misleading as it is still considered quite a dense hardwood. This has great flecks of sheen that "Pop when viewed in the sunshine. Continuing with the creation process, I select various species of hardwoods to use as inlays for the letter alotment rectangles as well as the point value squares. They come in 1/16" veneer panels that are then sent to Laser Engraver for engraving, which entails shooting a highly focused beam of light that permanently burns the image into the wood. I can shoose all kinds of fonts and designs/patterns for the laser which is also designed on the computer and then imported into the laser. Once each individual inlay has been lasered, it is time to cut out each square also using the laser. Each of these inlays will be placed in the appropriate squares on the now sanded and prepped boards. From there, the entire board is triple sealed with a eurethane based hybrid finish that gives a great sheen without sacrificing protection from spills and daily use.
Dimensions: 17"x15.25"x1.75"
All of our products are handmade
by expert makers.