Marconi Perma Glow Antique Light Bulb 60w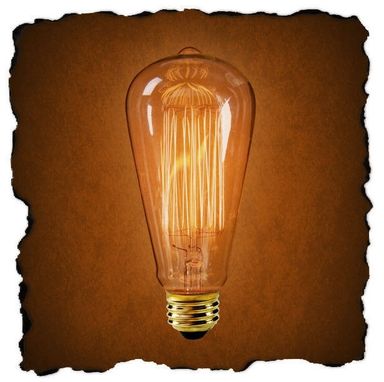 60 Watt - Vintage Antique Bulb - S21 Edison Style - Hand Wound Tungsten Filament - Multiple Supports - Clear

This carbon filament bulb is hand crafted to evoke the look of the historic Edison light bulbs. The light bulb emits a nice decorative glow and can be used in any socket without a shade to create a dynamic light art. 60W tungsten filament reproduction "Squirrel Cage" light bulb. This historic bulb is made up of a series of up and down filaments which make up a "cage" around the center glass pillar support. Bulb has a standard Edison base and measures 5 3/4" tall by 2 1/2" in diameter. This bulb is brighter than it's carbon filament counterparts. This was a very popular bulb in the early days of electric lighting. This light bulb is great for authentic lighting concepts and exposed socket fixtures. Rated for 120 Volt and 60 Watts power.

* I will also ship internationally. If you live outside the United States and would like to purchase one of my items please contact me prior to your purchase so that I may provide you with an accurate shipping quote. Thank you.

All of our products are handmade
by expert makers.