Marilyn Monroe Chenille Wall Hanging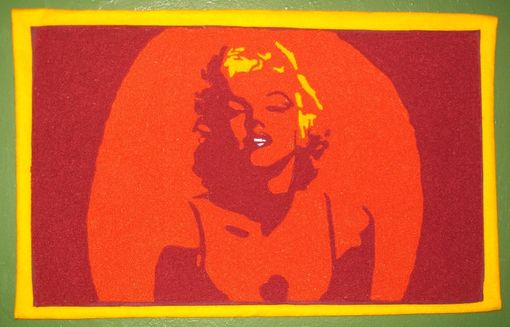 I wanted something cool to put on a naked wall in the guestroom, and I thought, who doesn't like Marilyn? I took a picture of her from the public domain, and put it through a monochrome filter. I wanted a "steam heat" sort of feel, so added the cardinal, blood orange, and gold, with that little pop of white in her half smile. I printed the image onto sheets of cotton muslin, then used the same color yarns to chenille moss stitch embroider the entire image onto a good soft felt. When finished, I added two more layers of the felt as backing, making the piece a bit more substantial and hardy. This particular piece is 19 inches tall and 30 inches wide. I call her "You Give Me Fever", and I've made more of her in different sizes for sale and as gifts.
All of our products are handmade
by expert makers.