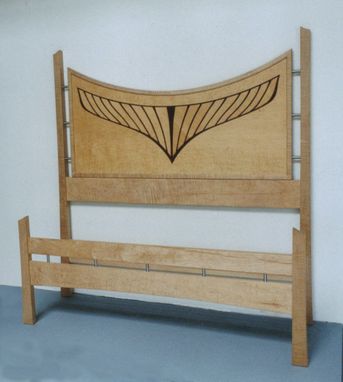 This custom bed is of Solid tiger maple and maple veneer with purple heart inlays. Stainless steel pins also add detail. The customer had a general design for the inlay while I ran with the rest of it.
Cutting the marquetry is preceeded by a lot of set-up. Each piece is laid out and taped over under to the adjacent oversized blank. Then each cut simultaneously shapes each joined piece. In a symmetrical piece like this the entire field was laid out and then folded in the center, so each cut shaped both sides.
Because there is no place to stop in the sequence of this design the whole series was done at one time. Weeks of practice cuts then one session of all or nothing completes the process.
Dimensions: 60"x80"