Marsh Snake Hanava Fountain Pen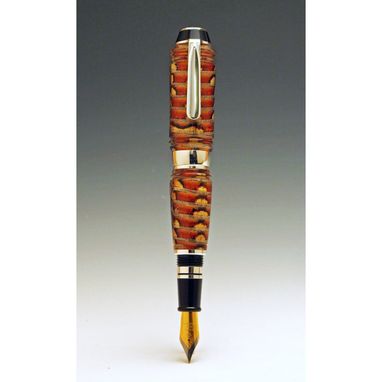 The Havana Fountain pen is a well balanced large diameter but short pen, approximately 4 ½ " long. The Havana Fountain pen has a cap that twists off and twist on to post. It is easily refillable using the short European cartridge like Peliken® Waterman® or using the included short converter for bottle ink. It is fitted with a Germany two-tone iridium tipped nib. Each pen comes in a gift box with product information.
The process I use in making the cast pens is first I glue the material, (snake skin, feathers, butterfly wings, etc.) to a brass barrel. I then place the barrels in a mold and cast with water clear polyester casting resin. Once cured I hand turn each pen and polish to a glass finish. Lastly, I assemble the pen parts to complete the pen.
For this one the main body is Marsh snake leather and the pen finish is Sterling Silver plate.

Dimensions: 7/8" diameter by 5 1/2" Long